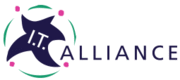 Administrator/Receptionist - I.T. Alliance Group
Dublin, Dublin

Auxilion is looking for a Support Administrator / Front Desk person to join our Central Admin team based in Park West, Dublin 12 on a permanent basis. Working hours: Monday-Friday 9am - 5:30pm

You will manage all duties within the Central Admin Department across all business areas in Auxilion as outlined below:

* Maintaining contractor records to ensure all contracts are returned on time and files are kept up to date.

* Liaising with the sales team regarding placements for contractors.

* Making travel arrangements to include booking flights and accommodation for employees.

* Co-ordination of bookings for taxis/couriers, including reconciling bookings against statements.

* Managing the front desk reception area.

* To project a positive, professional corporate image to all who come through the reception doors and call the switchboard.

* Managing the office stationery supply, ensuring stocks are maintained.

* Diary management for internal meeting rooms.

* Managing incoming and outgoing correspondence (e.g. post).

* Provide daily administration assistance to all other teams including HR, Resourcing and Finance on an ongoing basis.

* Work on various special projects as requested.

Requirements:

* Fluent English - spoken and written.

* Excellent Microsoft Office skills especially in Word, Excel and PowerPoint.

* Ability to follow up and close out within deadlines.

* Cost conscious and always striving to work as efficiently and effectively as possible.

* Excellent organisational, communication and interpersonal skills.

* The ability to be able to share responsibilities and ensure that there is seamless handover across all work.

* Be confident and take full ownership and responsibility for your work.

* Work on own initiative and possess a can do attitude.

* An individual who is quality driven.

* Strong Customer Service skills with excellent attention to detail.