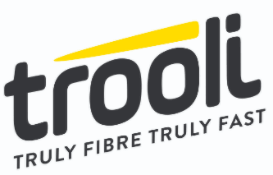 Fibre Optic Cabler - Trooli
Kent, Southern
Fibre Optic Cabler
Field Based (working across Kent)

A bit about us

We are Trooli, the barons of broadband, icons of the internet, heroes of homeworking! Well, you get the idea.

We're on a mission to bring our incredible, ultrafast broadband to communities across Kent, East Sussex and beyond. We don't believe in 'up to' speeds and gone are the days of buffering or spinning circles of doom, instead we provide an independent, full fibre broadband network (aka Fibre to the Premises or FTTP) and we're taking the industry by storm.

Having only been around for two years, we've gone from a standing start to over 50,000 premises connected, from 10 staff to over 100 and we're now acclaimed as one of the most respected in our industry.

We're growing our network and we now need you to join us as a Fibre Optic Cabler, connecting incredible fibre systems to support our amazing customers.

So, what's in it for you?

Apart from joining our fast-growing, already successful business, we'll offer you this:

- Salary of £24,000 - £30,000 depending on experience
- 25 days' paid holiday, plus Bank Holidays (that's over a month of holiday for those who are counting)
- Generous life insurance policy (look after your loved ones)
- Company sick pay after qualifying period (look after yourself)
- Pension (look after future you)
- Career progression (look after today you)
- Free parking (look after your wallet)
- Friendly working environment (have a good time at work)
- Company laptop (have a good time online…not too good)
- Employee referral scheme (look after your mates)
- Cycle to work scheme (look after your legs)
- COVID secure and risk assessed employer (WE make sure you're looked after)

Our business is more than politics and process, bean counting and bottom lines, we're about the passion. The passion for our customers but also the passion for our people. We want you to grow as we do.

But we also want to have fun at work and we've got the high staff retention rates to prove it (we know you'll be checking). To make sure we stay on top, we've got an amazing range of benefits (read up…) but we've also got values that support us. Want to hear them? Okay then, we work with Integrity and Passion, we Develop and Continually Improve, we're Proactive, we believe in Teamwork and we are all about Quality.

What's more, we're independent, we're not part of a vast national company and we have complete control over what we do and the experience our customers receive. So, if you want to be part of a five star rated company and do something just a bit better with your career, join us, we are Trooli better.

What will you have to do to get this good stuff?

As a Fibre Optic Cabler, you will join a…(wait for it) Cable Installation Team and (deep breath) install fibre optic cables within existing ducts, further building our ultrafast broadband network. You'll be adding skills and experience to our team, working as part of a group of four to 'piggyback' onto broadband ducts and grow the network (don't worry, we asked to use the ducts, it's fine).

On a day-to-day basis, you will:

- Carry out risk assessments prior to starting work
- Interpret box-to-box diagrams and maps to understand the routes
- Make each entry point safe using gate guards and signage as appropriate
- Carry out rodding and roping to establish whether the planned cable routes are clear and viable
- Identify blockages and attempt to pass them (yes, we've heard the jokes), completing A55 forms as required
- Use traffic management as needed and work with civil contractors
- Work in accordance with BT Openreach requirements to build documentation
- Be nice to your van and tools and make sure they are tucked up safely each night

Skills, experience (and thanks for all the fish) – basically, what do you need?

To be considered as a Fibre Optic Cabler, you will need:

- A proven track record of high-quality cabling work and excellent references, with at least three years' experience of cabling in BT Openreach ducts and infrastructure - both overhead and underground
- A full clean driving licence and age appropriate licence to tow a cable trailer

What will make us love you? (i.e. the bonus stuff that would be amazing but not necessary)

- NSRWA Unit 2 Signage, guarding and light certification
- NSRWA Unit LA Avoidance of underground apparatus certification
- IPAF MEWP Mobile Boom 1B certification
- Knowledge and experience of working to BT Openreach standards and processes for underground safety, working at height and confined spaces
- Current qualification to work on BT Network or equivalent

Other organisations may call this role Cable Engineer, Fibre Optic Cable Engineer, Cable Puller, Cabling Engineer, Fibre Optic Cable Technician, or Fibre Optic Cable Engineer.

So, if you're seeking your next challenge as a Fibre Optic Cabler, please apply via the button shown. This vacancy is being advertised by Webrecruit. The services advertised by Webrecruit are those of an Employment Agency.
24,000 - 30,000 per year
Benefits: