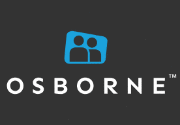 IT Recruitment Consultants - Osborne
Dublin, Dublin
IT Recruitment Consultant & considering a move?
Osborne Team would like to hire an experienced IT Recruitment Consultant to join our team. We are an award winning Recruitment Consultancy with offices in Dublin 2, Blanchardstown, Sandyford, Drogheda, Cork & Toronto.
Our IT Recruiters partner with a range of organisations across Ireland & Internationally who Trust our Recruiters to find them the right person for their organisation. Osborne has been a Certified and ranked in the Top 10 for 2 years now as a Great Place To Work.
Our culture is Open honest communication, Trust, accountability and autonomy with a strong sense of team. We work smart and have lots of fun!
If you would like to work for a great company who buy you clothes, support and encourage you in learning and developing your career. Have a Business Development team who find you new jobs to work, an Internal Marketing Department who will promote your specialist division, a business support to post your jobs ads, as well as your birthday off …………contact me today!
Experience
2 years+ experience in Recruitment role in a Consultancy or Agency of IT Recruitment in Irish market.
Passionate about the Recruitment Industry & a genuine interest in Technology/ IT roles.
Strong experience using searching methodologies across various platforms to find & match candidates
Proven experience in Client delivery & will go the extra mile
Energetic, interested in being part of an innovative and growing firm with a huge vision.

In addition to a brilliant culture, here are just some of what we offer
Attractive Basic Salary.
Uncapped upward scaling commission structure up to 20% on an annual basis.
Flexible benefits package (% of your salary is allocated to the option you choose)
Quarterly Uniform allowance
Flexible working arrangements.
21 days annual leave that increase by one day for each year of service
100% Club
Quarterly company nights out / away.
Annual company weekend away
See osbornecareers for a full list of benefits that show you how we look after our people
Interested to find out more… I would be delighted to have a confidential conversation with you please contact me Ayesha– Internal Recruitment Manager- 01 -6384400 / 086 8513596 or email: Ayesha.Thompson at Osborne

INDOS