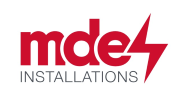 Qualified Electrician - MDE INSTALLATIONS
Drogheda, Louth
MDE is one of the leading and most experienced electrical contractors in Ireland & provides electrical installations to meet a wide range of client requirements. Due to our continued expansion, we are currently seeking to recruit qualified electricians to join our expanding team.

The Role
Our team of Electricians are responsible for the installations of smart meters and completion of required remedial works identified on-site.
Upload all job details onto a handheld mobile field technology device on completion.
As an Approved Installer, you will be required to maintain first-class customer service and provide advice to the customer.
The Installer shall adhere to and maintain compliance with all MDE Installations Health and Safety procedures.

Benefits
Competitive Base Salary
Bonus Scheme
Pension Scheme
Death in Service Benefit
Sickness Benefit
29 days Annual Leave
Centre of Excellence Training Program
Company Van
All Tools provided
Fuel Card, Toll tag
PPE, Uniform
Mobile phone
Accommodation provided

Key Responsibilities
Health & Safety is our number one priority.
Full responsibility of Installations into domestic and commercial properties in line with industry/company rules and regulations.
Installers shall ensure that all interactions with customers, MDE Contact Centre Staff, the client and internal stakeholders are managed within agreed time scales and in a professional manner.
Installers will be the face of MDE Installations and shall provide a quality service.
Ensure all equipment meets industry standards by completing testing once installs are completed.
Make sure customers' supply is in safe working order upon completion of installations.
Identify and escalate issues to your Line Manager / Supervisors.
Build excellent working relationships with our Contact Centre Agents, Auditors and Supervisors.
Maintain the integrity of the client's customer data, adhering to company's GDPR compliance.
Other duties as assigned.
Working flexibly when scope or prioritisation changes are made or required.

Essential Experience and Qualifications
National Craft Cert Level 6 or City & Guilds NVQ Level 4
A minimum of 1 years' experience within commercial/industrial sector
Must be able to demonstrate your experience, good knowledge and good working practices.
Must be able to work from verbal and written instruction, work alone and/or as part of a team.

Extra Information
Proof or relevant and any additional qualifications is requested prior to interview
MDE Installations is an equal opportunities employer. We celebrate diversity and are committed to creating an inclusive environment for all employees.
47,000 - 49,000 per year
Bonus Scheme, Pension Scheme, Sick Pay, Company Van