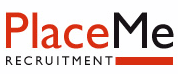 Sales Lead Generator - PlaceMe Recruitment
Dublin, Dublin
Overview
My client is one of Ireland's most recognised brands in the Irish services sector amd is currently reruiting for a sales person based out of there south country Dublin office. There will be a mix of both office and field based sales involved in this role.
Qualifications
Previous sales experience incl. cold calling

Target driven, self motivated and a will to succeed

Excellent communication & IT skills are essential along with good organisational and time management skills

To work within a successful sales process with Outside and Inside Sales

Proven track record in achieving sales targets

Good Geographical Knowledge of Dublin

Full clean Irish driver's licences

Identify key buying influencers within prospects business
Responsibilities
Deliver excellent customer experiences. be aware of customer needs; make decisions with customer in mind; buildstrong customer relationships (internal / external).

Achieve and exceed goals; push self and others for results

Adjust effectively to new work demands, processes, structures, and cultures

Deliver accuracy and precision in work products; mindful of technical requirements, rules and standards.

Be systematic and methodical in working through a plan or problem; provides solid research on which to base decisions; establishes process for workflow.
Give Caroline Place a call on 091 380711/086 3840862 o email cplace@placeme,ie